Festival Mission and Highlights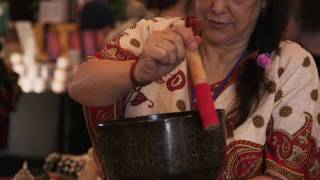 The Healing Arts Festival is Sacramento and Reno's Premier Metaphysical, Spiritual and Holistic Expo offering a place for healing of body, mind, and soul. We embrace all spiritual paths and expressions of unity. We strive to offer information and alternatives that lead to a fulfilling, whole, beautiful existence. Expand your possibilities of well-being and achieve balance through ancient healing sciences and spiritual traditions to new thought and holistic modalities. We are the areas only festival that requires an interview reading with our potential readers before they are allowed to exhibit with us to ensure you receive a quality reading from a verified professional.
Explore
the unique gifts, services and offerings from our exhibitors, including crystals and jewelry vendors, healers, psychics, tarot readers and more.
Discover
new information and insight for your journey of personal growth through our free presentations and workshops, including learning self-healing techniques, developing psychic abilities, practicing yoga and more.
Be Inspired
to live to your full potential, share your light, and live in harmony with the Universe.
The Healing Arts Festival - Explore, Discover, Be Inspired!
Fundraising
The Healing Arts Festival will be supporting Sacramento's SPCA in April & September. A portion of proceeds will go to support this worthy cause. Bring a donation from the
wish list
for a free weekend pass to the event.
Healing Arts Festival
Scottish Rite Masonic Center
6151 H St.
Sacramento, CA 95819
Saturday, September 19th, 2020, 10:00am-6:00pm. Mobile pet adoption onsite
Sunday, September 20th, 2020, 10:00am-5:00pm. Mobile pet adoption onsite